Hickstead
Hard-wearing for equestrian surfaces
Edward Bunn is Facilities Manager at Hickstead, one of the most iconic show jumping arena in the world. Still a family-run business, Ed's been tending to the showground since 1983. Having watched it grow from strength to strength, in 2011 he managed a £650k complete reconstruction of its international arena. We asked Ed to tell us more…
WET WEATHER CHALLENGE
Ed says: "We'd admired the renovation work done by STRI at the RDS in Dublin—at the time recognised as one of the best grass arenas in the world. So we turned to them for help with a complete dig out, rebuild and re-drain. We're susceptible to bad weather here, making for a soft, muddy course after heavy rain. That's why international show jumping tends to be dominated by all-weather surfaces: such as sand arenas… but we've been a grass course since 1960 and we wanted to keep it that way
So our challenge was: how do we provide consistent conditions, so riders get a level playing field even in torrential rain?"
A BESPOKE SOLUTION
STRI recommended Barenbrug BAR SPRINT, which we used across the 1.8 hectare site. We'd considered turfing, but the cost was huge and we knew growing from seed would yield better results—if we had time and weather on our side. We did, and within three years, Hickstead got voted the best arena in the world by international riders."
Last year, Ed looked at Barenbrug's unique RPR (Regenerating Perennial Ryegrass) technology to assist with repairs. With only a month between summer events, he wanted to trial the unique cultivars, renowned for the determinate stolons that spread into surrounding areas, quickly filling gaps in sward.

He continues: "Last year, I spoke to Sam Horner at Barenbrug who agreed to create a one off special mix for us, featuring BAR SPRINT and RPR. Grass seed is a science that continually develops and I was curious to see what it could do for our autumn renovations and repairs.
We scarified the ring back, taking out 40 to 50%. Then carried out de-compaction work. When you've got a ton of horse taking off and landing on the same spot, you get a lot of holes and compaction. After that we overseeded with the newly developed BAR SPRINT RPR. Despite a dry autumn, it germinated within three to four days. It's been our best renovation yet, with dense infilled gaps, and a lush carpet-like effect. It'll be interesting to see how it recovers from this summer's shows. And, over the coming years, as the percentage of RPR builds up."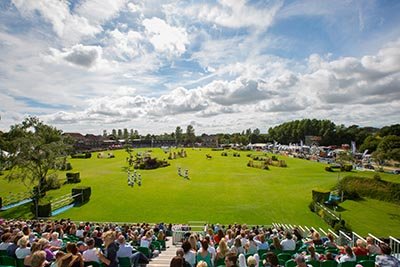 TIPS FOR OTHER EQUESTRIAN VENUES
The international arena runs just 16 days a year. However, the condition must be maintained to world-class standards, even when time is limited.
Sharing his tips, Ed says: "Because of the short period between events, we pre-germinate the grass seed; putting it into hessian sacks and into water. We put it in on the Friday of an event, and it's ready to use on the Monday. Then we create a divot mix, using sand and soil, and we just go round and seed the patches. It's a real kick start for the grass.
We also fertilise a lot, and maintain and mow, but nothing special. BAR SPRINT RPR isn't a fussy grass seed. It's not delicate, but it still gives us the perfect look—essential when you're on television and live-streaming on the internet—and under the scrutiny of millions of viewers.
We're often ask what grass seed we use and we always recommend it. The riders all have training areas at home, and they want to mimic what we've got. They're the ones that ultimately benefit, and that's the best testimonial of all."
A SOLUTION FOR ALL
Sam Horner, Barenbrug, says: "Since seeing the results at Hickstead, we have now updated the mix, making the high-performing BAR SPRINT RPR our standard grass seed for equestrian venues."

RPR SPRINT
A blend of fast growing perennial ryegrasses, formulated specifically for the demands of racecourses.