Heart of Midlothian FC | Elite Sport
#1 Seed Selection for Technologically Advanced Pitch
Heart of Midlothian FC | Elite Sport
Scottish Premier League football club Heart of Midlothian undertook an ambitious full pitch reconstruction during summer 2018.
In conjunction with STRI, Carrick Sports and SIS UK, a state-of-the-art SISGrass hybrid pitch was installed, complete with new undersoil heating, irrigation and drainage systems.
The completion of this scale of work, and grow-in of the new pitch, in around two and a half months was a triumph of foresight, logistical planning and skilled work during an uncompromising period of heat and drought in Scotland's Capital.
The SISGrass hybrid system offers unparalleled stability, wear tolerance and aesthetics in a sand-based pitch that drains freely. However, the "artificial" grass fibres constitute only 5% of the pitch surface, with the other 95% being made up of natural grass. Like every other aspect of the project, the best possible advice and products were chosen to deliver exceptional grass performance.
Consultation with Dr. David Greenshields, product manager for Barenbrug UK, resulted in a bespoke perennial ryegrass seed blend being adopted for the Hearts pitch. The seed selection was based on independent scientific data from the official BSPB (British Society of Plant Breeders) trials at STRI in Bingley.
The brand new #1 perennial ryegrass cultivar Europitch was part of the blend; the first commercial seed production of this variety anywhere in the globe having arrived from New Zealand literally days before seeding commenced!
Material from Barenbrug's global breeding programme also featured heavily in the seed mixture. Barcristalla and Barorlando were included to deliver superior aesthetic colour in addition to strong wear tolerance. They are ranked #1 and #2 for colour (and in the top-10 for wear tolerance) among the top-60 varieties on the BSPB Turfgrass Seed List. In further independent data (turfgrass-list.org), they also exhibit strong tolerance to Drechslera leaf spot and Microdochium patch, two of the most significant diseases for stadium environments in the UK.
The seed was applied in two phases, at rates of 60g/m2 before, and 20g/m2 after, the SISGrass stitching to ensure optimum coverage. With only six weeks from initial seeding to the first match being played on 24th July, establishment times needed to be optimised.
The SISGrass system ensured stability for the fixture and allowed the natural grass to continue to develop under the watchful eye of head groundsman Colin Davie as the football season begun. The pitch has so far performed superbly and has fully endorsed the decision of the football club to invest significantly in their valuable playing surface.
The success of the project, and increased seed production of Europitch, will see the commercial launch of the bespoke blend - ELITE SPORT - as part of the Barenbrug Sport Range for 2019.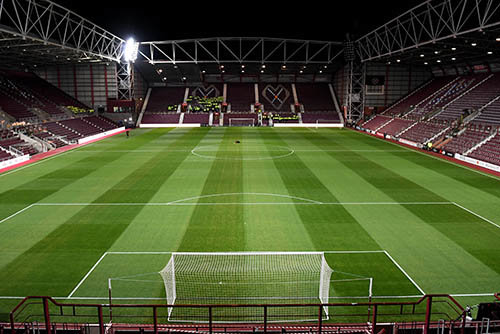 ELITE SPORT
ELITE SPORT is a blend of four hard-wearing perennial ryegrasses for the renovation and construction of winter sports pitches.