Elland Road - Leeds United | Elite Sport
ELITE SPORT selected for pitch renovations
A change to ELITE pitches at Leeds United.
When 2019 pitch renovations came around, selecting a seed mixture was a straightforward decision for Kiel Barrett, Head Groundsman at Leeds United Football Club. Having looked at all blends on the market, ELITE SPORT from Barenbrug stood out. Kiel stated "For starters, it is the number 1 mix on the market when referring to the BSPB/STRI Turfgrass Seed publication. However, after many meetings with Barenbrug's Phil Logan, we discussed the importance of looking beyond the booklet. For example, Barcristalla has a much darker colour and better disease tolerance then other top varieties. Sure, wear tolerance is important, but particularly stadiums need to start thinking about the new challenges we face; wear is only part of the jigsaw. We also discussed a tailored overseeding plan to ensure we are capitalising on specific cultivar traits at the time of year when they will benefit us the most, not just a one-size-fits-all approach".
Kiel was so impressed with the product that he made the decision to change all the pitches to ELITE SPORT. That included the iconic stadium, Elland Road, and every pitch at the training ground, Thorp Arch. Deputy Head Groundsman at Thorp Arch, Stefan Jones, commented, "The germination and establishment speed was excellent, we couldn't have asked for better. I was also very impressed with the purity of the seed; we have had very few weeds." Kiel added, "Thorp Arch is a challenging site, in a wet part of Yorkshire that sees heavy wear combined with intense disease pressure. ELITE SPORT has stood up well to the challenge and was the obvious choice for us in our conditions".
ELITE SPORT stands to be improved upon further in 2020 with some exciting new cultivars yet to be announced. For more information on - ELITE SPORT - and our other sports mixtures, visit www.barenbrug.co.uk, tweet us @BarenbrugUK or speak to one of our technical team.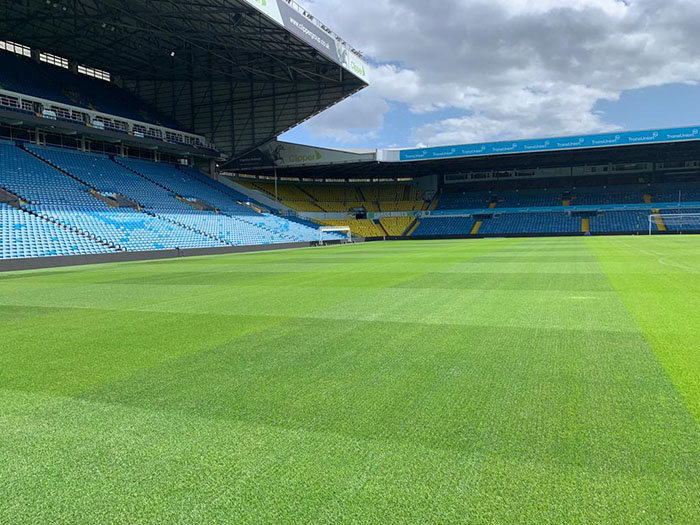 ELITE SPORT
ELITE SPORT is a blend of four hard-wearing perennial ryegrasses for the renovation and construction of winter sports pitches.