MIXTURE:
40% Hard fescue
40% Slender creeping red fescue
20% Strong creeping red fescue
USAGE:
Overseeding, divoting and construction for medium- fine turf on sites with particular drought stress.
FEATURES & BENEFITS:
Central to the product is a large proportion of hard fescue, a fine fescue species with well-documented tolerance to drought and heat stress and proven performance with low-input maintenance, as well as good overall turf quality for density and visual merit, helping to maintain good aesthetics in the harshest environments. Hard fescue also offers a potential reduction in insect damage and increased Dollar Spot tolerance.
Beacon is a newer variety of hard fescue, now listed on Table L6 with a mean score of 7.1*. Its performance on the GEVES list in France, #1 rated for a range of traits, including "lawn index", "shoot density", "fineness of leaves" and "global aesthetic quality", is of particular relevance to this product.

In trials at Landlab in Italy, Hardtop hard fescue performs particularly well in periods of heat and drought.
*BSPB/STRI TurfgrassSeed 2023 booklet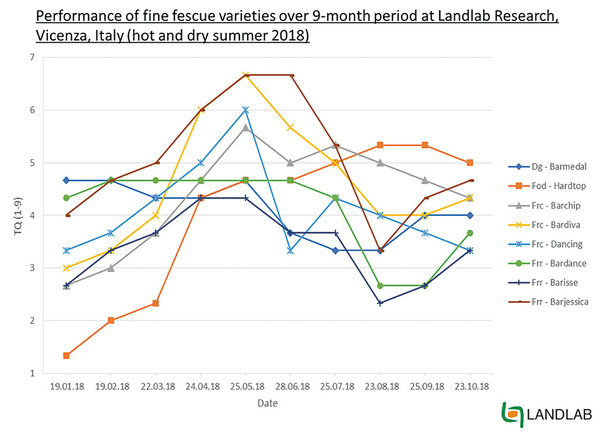 Figure 1: Graph to show fluctuations in fine fescue performance (NTEP Turf Quality (TQ) assessments) over 9-month period during (hot and dry) 2018 in Landlab, Italy. Note the superior scores of Hardtop hard fescue.
In addition to drought tolerance, the fine fescue components all exhibit outstanding overall turf quality in terms of density and visual merit. These points help to maintain good aesthetics in the harshest environments.