MIXTURE:
60% Hard fescue
30% Chewings fescue
10% Slender creeping red fescue
USAGE:
Overseeding, divoting and/or construction of a balanced blend of medium-fine turf on sites with particular drought stress.
FEATURES & BENEFITS:
SGT FINE FESCUE is an innovative mixture of three fine fescue species and sub-species, designed for the overseeding, divoting or construction of free-draining medium-fine turf on sites with particular drought stress.

SGT stands for "Sustainable Grass Technology" – Barenbrug's research-driven concept designed to deliver outstanding turf performance with reduced water, fertiliser and/or chemical inputs.

Central to the product is a large proportion of hard fescue – a fine fescue species with well-documented tolerance to drought and heat stress and proven performance with low-input maintenance.

Beacon is a newer variety of hard fescue, currently undergoing BSPB trials at Bingley. Its performance on the GEVES list in France (#1-rated for a range of traits, including "lawn index", "shoot density", "summer aesthetic aspect" and "global aesthetic quality") is of particular relevance to this product.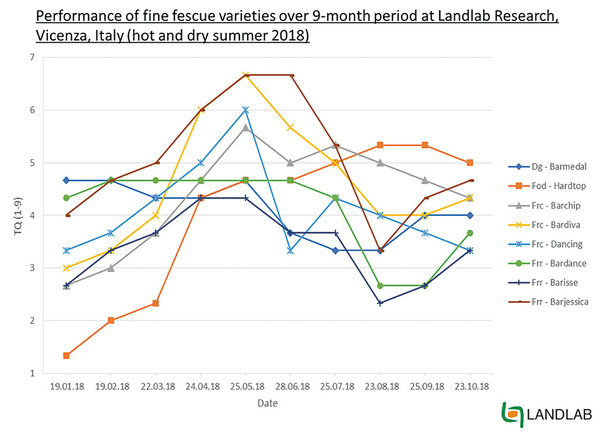 Figure 1: Graph to show fluctuations in fine fescue performance (NTEP Turf Quality (TQ) assessments) over 9-month period during (hot and dry) 2018 in Landlab, Italy. Note the superior scores of Hardtop hard fescue.
In addition to drought tolerance, the fine fescue components all exhibit outstanding overall turf qulaity in terms of density and visual merit. These points help to maintain good aesthetics in the harshest environments.