Return on Investment with reseeding
The advantages of reseeding
Return on investment with reseeding
Farmers who don't treat grassland as a crop are missing out on thousands of pounds worth of production if they rule out proper management and reseeding grass leys.

The agricultural grass team at Barenbrug has calculated that farmers that reseed grass leys can expect a ten-fold return on investment as a minimum - depending on the focus of their farm. Using control *RGCL figures, Barenbrug estimates that reseeding with perennial ryegrasses has the potential farmers to achieve grass yields of around 11.63t DM/ha on a two cut silage system. That's enough grass to generate 133,320 MJ of energy or the equivalent of:
25,150 litres of milk worth = £6966*2
2050kg of lamb worth = £8286*2
2400kg of beef worth = £8544*2
Including autumn grazing which has the potential to provide around 4t DM yield and 52,906MJ produced in addition to the 2 cuts take the total annual production to 15.6tDM/ha and 186,226MJ of energy.

As a sward ages, generally the proportion of sown species drops and weed ingression increases and in 2017, AHDB estimated the average yield of grass in the UK to be around 7t DM/ha. Calculating seed sales against the temporary and permanent grass area in the UK, the UK reseeding rate stands somewhere between 2 and 4% per year meaning we are more likely to drop in overall grass production than gain.
When you compare an older sward which is yielding around 7t DM/ha and achieving only 86,400 MJ, livestock farmers could be missing out on £2451 of milk, £2914 of lamb or £2954 of beef within the first 12 – 15 months of reseeding perennial species which will continue to perform after that initial period used to calculate.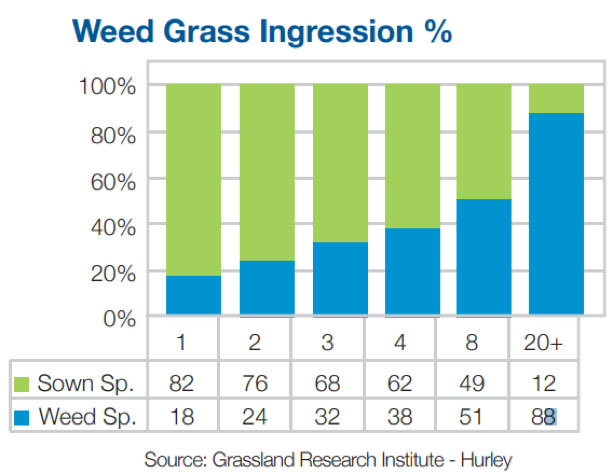 With the average full reseed costing between £650 - £700*1 per hectare, we speak to many people who struggle to see past the initial expense but the potential production from increasing average productivity by even 20% more than covers the cost. Reseeding, when done properly and with attention to details WILL provide a huge return on investment for a number of years. Commenting, Mhairi Dawson, Research & Development Manager at Barenbrug UK, said: "Future proofing your forage by investing in a reseed is a great way to improve productivity and resilience, and counter the weather-related problems we've seen over the past eighteen to twenty four months. It can be difficult to comprehend the value of a reseed, until you see the impact it can have on production levels - particularly when growing conditions are unfavourable."
Our biggest take home message is that we need all livestock farmer to also be grassland farmers. It's so important to treat grass as a crop and get your feet into the field and assess what is going on rather than looking over the fence and seeing green. The Barenbrug Good Grass Guide is a simple grass condition scoring tool – a similar concept to livestock body condition scoring – to help growers make decisions to improve poor swards and maximise productivity from highly performing fields and also provides space for field records.
*RGCL = Recommended Grass and Clover List 2019-2020. Independent data.
*1Calculated using National Association Agricultural Contractors Prices (2019-2020)
*2 AHDB UK average prices for 2014-2018