Speedy seed is at the grass roots of landscaping firm's success
When construction firms demand that landscaping contract manager Matthew Plume "get it green" – and fast – on turfing projects, he doesn't let the grass grow under his feet.
In fact Matt, who has been overseeing all kinds of commercial and domestic landscaping projects from ground maintenance to playground installation at garden design company Pro-scape Ltd – chooses the speediest seed he can for his major projects.
Ordering two to three pallet loads of Barenbrug's 'essential' amenity range every year for the last 12 years, Matt says its heavy-duty seed has stood the test of time.
"The landscaping part of a project is often something that comes at the end and deadlines are therefore tight. Builders and construction firms just want to 'get it green' immediately. They can't hang around for seed to grow, they want to see immediate results," says Matt. "Barenbrug's grass seed germinates fast and effectively with great performance. It seems to cope with whatever is thrown at it."
Turf time
And the grass seed isn't the only thing that's speedy, says Matt. "Barenbrug can turn orders around at short notice, which is especially important with such a seasonal product that is also weather dependent," he says.
"Customer sales support always gives me the best price first time – there's no going backwards and forwards negotiating a better deal – and I like that. They understand that my client can't wait around for three days while they decide what to charge!"
Providing professional garden design and landscaping services across Suffolk and the surrounding counties for almost 20 years, from small lawns to major house building projects, means Pro-scape is always on the look out for the best deal when it comes to grass seed.
"One or two pence can make all the difference to a quote," says Matt. "We're pricing projects up to the £1.1m mark, and we sow a lot of seed – sometimes as much as 10 acres – so it's crucial that we can come in with a competitive price.

"Barenbrug's amenity range combines a competitive price with a quality grass, which allows us to pass on savings to our clients and gets us ahead of the competition when it comes to quotes," adds Matt.
Expert advice
Matt says he also relies on the company for its expertise. As one of Britain's largest grass seed producers – selecting, breeding, growing and distributing more than 4,000 tonnes of grass seed a year for the last 50 years – Barenbrug is the UK's leading expert when it comes to grass: from stem to seed head.
"We're not seed experts so it's great to have that advice at the end of a phone line," says Matt. "Everyone in customer sales support is knowledgeable about the products so it's easy to get information on what you need. In the past, we've gone to the company with a particular seed mix that has been requested on a project – that isn't one of its brands – and the company has said "yeah no problem" and have matched it immediately for us."

And, despite regular competitor comparisons, Matt says he doesn't want to swap the seed anytime soon.
"Like us, Barenbrug are members of the British Association of Landscape Industries (BALI) and that means we know they operate to the same quality standards that we do," says Matt. "But we appreciate it can be easy to get stuck in a rut with your suppliers so we regularly get quotes from other suppliers when quoting for a landscape job. Barenbrug has always come out on top for price versus quality, so we've never changed to another supplier."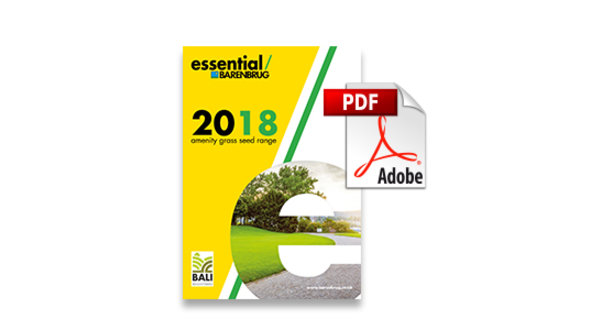 Download the essential brochure for more information about our range of landscaping products.