Newton Rigg College hosts Grasslands Technical Event
Top industry specialists working together on innovative practices
A 'Grassland Technical Event' was held today at Newton Rigg College, Sewborwens Farm, where a collaborative partnership of specialists from Carrs Billington, Agrovista, CF Fertilisers and Barenbrug and attendees from the farming community met to examine topics around the effects of planning, efficiency, profitability and sustainability in forage-based livestock production. During the past twelve months, Sewborwens Farm at Newton Rigg College hosted ongoing practical forage trials. During the day's event, results from those trials were shared along with other potential ideas to improve efficiency to forage-based production including improvement to soil health, choosing the best grass species for farms, forage nutrient planning and efficient forage utilisation for dairy cows.
Head of Farms for Askham Bryan College, Matt Bagley, who moderated the day's event, says "We are always reviewing and improving methods and practices that will optimise productivity for farms. Today's discussions involved representation from all the required parties who can expertly inform on this area of agriculture. The conclusions and actions we've taken away from the day about increasing efficiency and profitability were reported on and shared with our fellow industry partners and farmers to help benefit their businesses."
The collaborative partners covered a range of interests in their industry areas.
Agrovista focused on the interpretation of the soil sample report, the interactions between all the elements of the soil sample results, how the soil health and structure can be both maintained and improved, and how nutrient recommendations can be tailored to the sample results.
Barenbrug advised on grass species and varietal selection, the value of reseeding, evaluation and management of crop performance and planning future cultivation for successful yields.
Carrs Billington shared information about the efficient use of forage detailing how maximising forage use on the farm is the key to profitability. Forage quality and quantity rely on grass sward, soil nutrition, cutting time and clamp management and the optimum output of milk is achieved with a mixture of high quality forage and a feed supplement supplying the correct balance of fibre, starches, sugars and protein to complement the forages on farm.
CF Fertilisers led talks about Fertiliser Management for Grass and Forage and included topics around nutrient management planning, accounting for nutrients in slurry, nitrogen fertiliser source, and sulphur fertilisers.
Agrovista Agronomist, Steven Gate, said, "Soil health is integral to ensuring we can sustain future crop and livestock production, as well as protecting the future of our planet. Agrovista is delighted to have been a part of this grassland technical event, and engage with other forward-thinking stakeholders who want to drive our industry in an efficient and profitable way."
Mhairi Dawson, Research and Development Manager, Barenbrug, "Barenbrug have worked with the Newton Rigg team for a number of years aiming to increase productivity and efficiency from the grass as part of their whole enterprise. With grassland making up 70% of the UK's agricultural area, we are delighted to be able to share our knowledge with other forward thinking grassland farmers. We aim to inspire even small changes which can have significant results as part of this excellent technical event."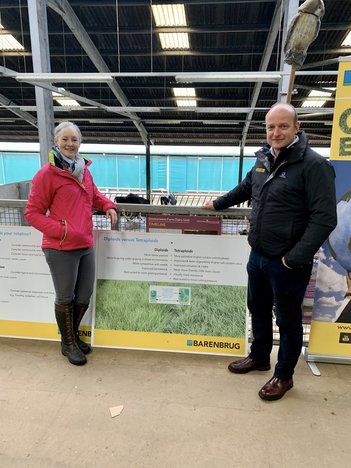 Mark Holliday, Marketing Manager, Ruminant Nutritionist at Carrs Billington Agriculture said, "Carrs Billington is proud to be associated with Newton Rigg College, the exceptional management standards on this dairy unit produce a combination of high milk yields and milk soilds to help maximise the potential offered by their Arla contract. Production is achieved efficiently with optimum use of the quality home produced forages."
Dr. George Fisher, Head of Marketing, CF Fertilisers UK Ltd., said "CF Fertilisers have been involved in a trial programme at Newton Rigg which has revealed the need for Sulphur in grassland, even at first cut, with response of over 1t DM/ha in silage. We are delighted to be involved with this open day and share this valuable work with farmers, which helps their profitability and sustains their business and the environment they farm in."