Choosing what grass to grow
How to pick the right forage grass variety for your farm.
Choosing what grass to grow
If you've recently made the decision to reseed or overseed, you might be feeling a bit confused about how to pick the right forage grass variety for your farm. Do you go with the same variety you've always used, or try something different?
If you've not bought grass seed for a number of years, you'll undoubtedly find that there are many more products available.
In the last five to ten years, grass seed technology has moved on considerably, with many new varieties with much better genetics and performance potential now available.
With input costs increasing, selecting the right seed mixture to suit your system is essential. So where should you start? Well, obviously, looking at Recommended Lists is a good place to begin. Proven to deliver, forage grass varieties included on the Recommended Lists for England and Wales, and Scotland, have been extensively tried and tested to make sure the numbers add up.
In recent years, the Recommended List scheme has changed. It's no longer partially funded by merchants - so the data is available to everyone. Today, the testing is funded by plant breeders through the British Society of Plant Breeders and the ruminant levy boards (AHDB and Hybu Cig Cymru).
The England and Wales list contains 168 varieties while the Scottish list contains 132 1st choice varieties and 16 red clovers. Each grass is ranked by heading date with detailed information included on a number of variables including:
- Grazing yields
- Grazing D-values
- ME yields
- Seasonal growth yields
- Annual growth yields for each year up to three years - including a mean value
- Plus expected yields per cut, up to four plus harvests.
Data is also provided on ground cover characteristics; resistance to diseases including crown rust, drechslera and mildew; and the year the variety was first listed.
Obviously, as a grass seed breeder, the Recommended Lists are important to the team at Barenbrug - helping us differentiate our products from those of our competitors. With grasses tested independently, the numbers speak for themselves. As you'll see on page 3, our varieties regularly appear on the list - with some appearing year in, year out, because of the outstanding results they offer.
This year's list features 39 varieties of ryegrass and clover that were either bred by or are available through Barenbrug. More than ten of these grass products were listed for the first time more than a decade ago, with one of our clovers, Aberystweth S.184, first appearing as far back as 1969 when it was developed by IBERS.
Other examples of best selling varieties, which are renowned for delivering great results, include Fintona - the highest yielding perennial ryegrass in the UK, ever. Developed by our team and our partners at AFBI, Fintona provides unrivalled spring grazing yields and an impressive sward density - providing a pretty solid investment.
Consider the following factors when choosing a grass seed mixture:
- How long do you want the grass to last?
- How will your field by grazed?
- Do you need strong ryegrass growth rates early in spring or is late spring feed quality more important?
- What'syourstockclass?
Generally, diploid varieties create a denser field, are more forgiving under grazing in stress environments, and are more competitive with weeds. Tetraploid varieties are, by and large, more palatable and have improved with faster digestibility, and improved utilisation and intake.
If you've still got questions and want to discuss the pros and cons of reseeding, please contact one of our team.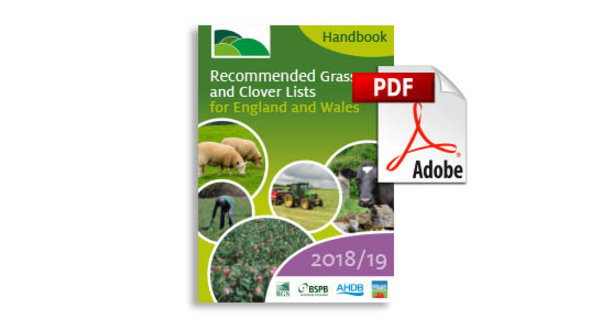 Download the Recommended Grass and Clover Lists for England and Wales and listed varieties in Scotland.