Barenbrug Grass Seed Is a Major Player at Aberdeen Football Club
Dedicated top-class renovation plan for Aberdeen Football Club.
Barenbrug Grass Seed Is a Major Player at Aberdeen Football Club
Pittodrie, the home of Aberdeen Football Club, is one of the most northerly stadiums in the UK and an inherently difficult place to present a top-class natural grass surface for Scottish Premier League football in the depth of winter.
David Nicholson, grounds team leader at the club trusts Barenbrug grass seed, supplied through Neil Mitchell of Greentech Sportsturf, to stand up to the elements that his challenging location presents. Operating on a 100% natural surface with fibresand rootzone, a dedicated renovation programme is planned with Neil, which features Barenbrug's top-rated grass seed formulation Elite Sport.
David comments, "Elite Sport delivers all aspects that I look for in a stadium seed blend – fast establishment, superb recovery during the playing season, high disease tolerance and superior aesthetics. It ticks every box and I know it's set to get even better in the next few years, after visiting Barenbrug's UK Research site, Cropvale and seeing their new cultivars first-hand." The new breeding material David refers to here are the #1 and #2-ranked in BSPB/STRI Turfgrass Seed, Barzico and Barbasten.
In addition to Elite Sport, David relies on Barenbrug's SOS product to see the pitch through the depths of the North-East Scottish winter. SOS features an amenity annual ryegrass cultivar, capable of germination and growth at exceptionally low temperatures. David continues, "SOS is a great product. We try to get some established in the pitch in autumn. This gives the annual the platform it needs to continue to grow throughout the winter months. With limited lighting rig coverage, I see this product as a valuable tool in the armoury. It plays a huge role in maintaining turf cover in the goalmouths, which we overseed throughout the playing season."
The impressive performance of the products at Pittodrie made them a logical choice for the club's recent expansion at Cormack Park, a new purpose-built training ground in the Westhill region of the city. Neil and Greentech played a huge role in the site's development, constructing one SIS Hybrid pitch and two natural fibresand based pitches for 1st team usage. Neil commented, "It's an incredible facility, but there is no getting away from the fact that it's a cold, exposed site. We have to think out of the box at times to maximise turf performance. With Barenbrug breeding as the start-point, and an excellent team of groundstaff to collaborate with, it gives me great confidence and satisfaction when the grass plant responds to the plans put into action".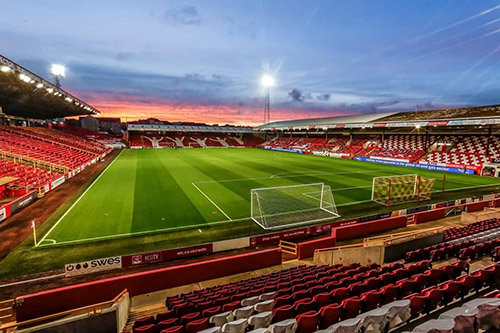 ELITE SPORT
ELITE SPORT is a blend of four hard-wearing perennial ryegrasses for the renovation and construction of winter sports pitches.

SOS
Designed to give the fastest possible germination, establishment and growth for emergency repair of winter sports pitches.