Bannfoot is a tetraploid hybrid ryegrass which was bred in Northern Ireland by AFBI and first officially listed in 2018 with first commercial sales in 2021.
Bannfoot is 7/8th perennial type hybrid ryegrass so exhibits excellent persistence for the hybrid group whilst still giving a yield advantage over pure perennials. It provides good yields of high-quality forage throughout the growing season. Being a perennial type, it is very easy to manage under either grazing or silage management.
Species: Lolium x boucheanum
Officially listed in: England & Wales
Heading dates: England & Wales 20th May
Ploidy: Tetraploid
Bred in: Northern Ireland
Most suited to: Any mixture for a medium term rotation
Trials Data
Recommended Grass & Clover List for England and Wales 2022/2023
Total Average Cutting Yield 15.19 t DM/ha
Total Average Grazing Yield n/a
Total 1st Cut Yield 6.79 t DM/ha

Loughgall, Northern Ireland Barenbrug Breeders Trials (2021)*
Total Average Cutting Yield 20.36 t DM/ha
Toal Average Grazing Yield 16.38 t DM/ha
Total 1st Cut Yield 6.64 t DM/ha
* Average of six years of data
Digestibility
Bannfoot is a variety which provides good quality whether under silage management or under grazing.
Both 1st and 2nd cut D values are equal two or above the mean of the hybrid ryegrass group.
Metablolizable energy (ME) yields in the trials in Norther Ireland were high under both cutting and grazing management.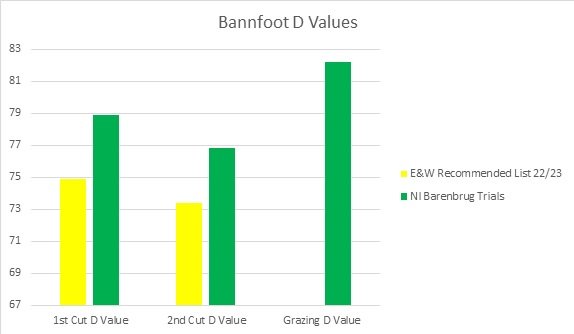 Other Attributes
Bannfoot has moderate Crown Rust Resistance of 5.4, excellent Brown Rust resistance of 7.5 and a Mildew resistance of 7.0. Bannfoot exhibits excellent ground cover and winter hardiness.
Hybrid ryegrasses grow to 6OC soil temperature and so, extend the growing season making them ideal for winter keep for sheep, early or late silage or grazing.
Being a tetraploid, you should expect an average of 269,000 seeds per kilogram and a slightly more upright growth habit than diploid counterparts. Bannfoot will benefit from grazing, particularly in the first 12 months to encourage tillering although it is naturally much more dense than more Italian types.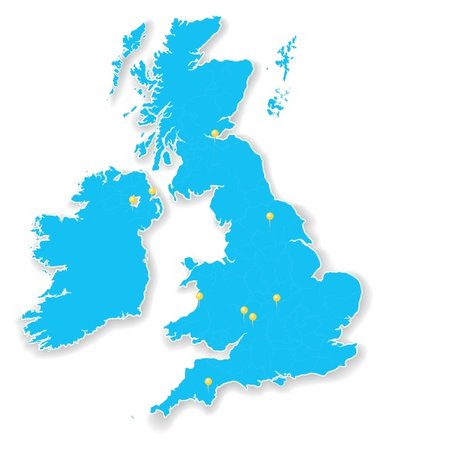 Before recommendation, Bannfoot has been extensively trialled across multiple locations in the United Kingdom to gather data on its performance in multiple climatic conditions
Bannfoot, was bred in Northern Ireland at the Agri-Food and Biosciences Institute (AFBI) by the now retired grass breeder David Johnston. Bannfoot was named after a small village in County Armagh.

ABOUT HYBRID RYEGRASS
A hybrid ryegrass is a cross between the Italian and perennial forms of ryegrass and shares characteristics of both. The dominant parent determines how the variety performs in the field. Some hybrids express the characteristics of the Italian parent very strongly, producing very high yields of up to 20 tonnes per hectare. Other hybrids, express the characteristics of the perennial parent and are very persistent.
Characterised as a rapid growing variety lasting from 1-5 years or longer depending on summer conditions and endophyte status. Hybrids typically yield 10% more than PRG and consistently produce high yields over 4-5 years and show rapid recovery after cutting.